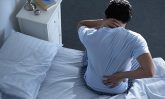 Landmark clinical study shows MRgFUS effective for bone mets pain.
A Landmark Study on Palliation of Bone Mets Pain
When a primary cancer such as cancer of the breast, prostate or lung spreads to the bone (bone mets), treatment strategies become complex. In today's world of oncology, better systemic chemotherapies can add months and even years to a patient's life; in addition, local cancer control of metastatic tumors in soft tissue can often be accomplished by precise treatments such as tumor ablation. Bone mets, however, pose a unique challenge as patients live longer because they can become extremely painful. Pain is the biggest source of patient anxiety and complaints about bone mets. This necessitates adding pain management to a person's existing therapeutic regimen – an approach called palliative care since its purpose is to bring ease from pain.
Conventional pain control of bone mets has consisted of several methods:
Medications – Pain medications range from over the counter nonsteroidal products to prescriptions containing narcotics. Other medications to strengthen bones, such as bisphosphonates or Denosumab may be prescribed. However, medication may need to be periodically adjusted.
Surgery – If the source of bone pain is due to breakage of a weakened bone, surgery to repair the break may help alleviate pain.
Radiation therapy – This may help kill the cancer cells if the bone pain is confined to a small area. For about 2/3 of patients, radiation may not be as effective as hoped, and it reduces future treatment options.
Ablation – Destroying the tumor that is causing the pain can be done by inserting a probe through the skin into the tumor and activating an energy source to produce extreme heat or cold has a higher success rate than radiation. While it is minimally invasive, there is a slight risk of infection due to probe penetration through skin into the bone. It may take weeks to evaluate effectiveness since in many cases the pain subsides gradually.
MRgFUS
A new, noninvasive technology called MRI-guided Focused Ultrasound (MRgFUS) can bring durable pain relief while avoiding inserting anything into the body. It is performed under real time image guidance in which the MRI is used to identify the source of pain, then guide sound waves with pinpoint accuracy to destroy it.
A landmark Phase III clinical study of MRgFUS for bone mets was conducted by a multinational team of researchers. It was published in 2014 by the Journal of the National Cancer Institute.i One hundred forty-seven patients with bone mets were enrolled; 112 were randomly assigned to be treated with MRgFUS while the remaining 35 received a placebo. All of the patients had had previous treatment that was not effective or no longer working, and this was evaluated and documented. Since treatment may not be immediately effective, the purpose of the study was to evaluate "improvement in self-reported pain score without increase of pain medication 3 months after treatment…"
The study demonstrated that 64.7% of the MRgFUS patients achieved significant improvement in pain (without increasing medication dose) at 3 months, while 20% of the placebo patients reported improvement. In fact, 23% of the MRgFUS patients achieved a complete response, reporting zero pain at 3 months. Almost all MRgFUS side effects were related to experiencing pain during the procedure, and resolved quickly – an event which can be controlled in the future by increasing anesthesia. In the placebo group, 65.7% of the patients dropped out before the study end because the placebo treatment did not relieve their pain.
The authors wrote: "In conclusion, MRgFUS provides durable pain relief and improved function in patients who failed radiation or those who are not candidates for or declined radiation. Given the impact of these clinically significant results, coupled with a favorable side effect profile, MRgFUS should be considered a viable treatment option for painful bone metastases. Further studies are required to assess the role of MRgFUS in patients with bone metastases as first-line therapy."
Clinical studies of MRgFUS as palliation for bone mets pain are ongoing, but the procedure was approved by the FDA in 2012. The Sperling Medical Group offers the Exablate MRgFUS system for treating painful bone mets. To learn more, or to find out if you or a loved one is a candidate for MRgFUS, contact the Sperling Medical Group.
_______________________________
i Hurwitz MD, Ghanouni P, Kanaev SV, Iozeffi D et al. Magnetic resonance-guided focused ultrasound for patients with painful bone metastases: phase III trial results. J Natl Cancer Inst. 2014 Apr 23;106(5). pii: dju082. doi: 10.1093/jnci/dju082.